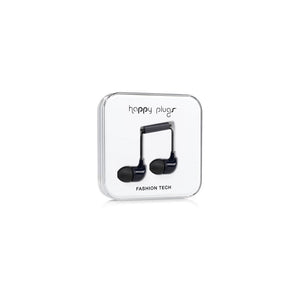 Happy Plugs In-Ear Earphones with Hands Free Microphone - Black
Happy Plugs took the champion and made it an all star. Meet earbud plus black; designed to fit the ear for an utmost experience. True to Happy Plugs colourful identity, the earbud Plus comes in complete range of colours and styles. Pick and choose your style to match fashion favourites in your closet and create an ideal outfit of the day. Providing the same high sound quality of Happy Plugs and combining the simplicity of an earbud and the sound experience of an in-ear, simply makes this headphone of two worlds.

STYLISH EARBUD - These Happy Plugs earbuds are fitted to be placed in your ear right outside of the ear canal. They have a relaxed fit that will fit most ears comfortably. These earbuds are jewelry and sound combined.
HIGH-QUALITY SOUND - Earphones typically have drivers between 8 and 15 mm. These earbuds have 14.2 mm handmade driver units in each earpiece. They have a sensitivity of 101 DB. Make a fashion statement while enjoying high-performance audio.
MICROPHONE AND REMOTE - Life gets crazy and sometimes it can be pure chaos. The built-in microphone makes life more convenient because you can talk on the phone while doing other things. Amp up your multitasking game with Happy Plugs earphones.
DURABLE CORD - The connectivity technology of these earphones is wired. The wire is durable and sure to last. Whatever you're doing or wherever you're going, these headphones will provide you with an enjoyable listening experience.
COMPATIBILITY - These earphones are compatible with every device with an audio jack. These earphones come with a 3.5 mm audio jack. They are compatible with your iPhone or Samsung phone or other cellular devices, tablet, walkman, and mp3 player.
---
Recommended
---