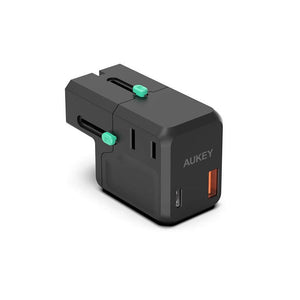 AUKEY Universal QC&PD3.0 Travel Plug Adapter Power Converter with 4 Ports
Multi-Function 18W PD Travel Adapter
This adapter can be used with most electronic devices rated up to 2300W at 230V and 1100W at 120V.

Omni Stack Technology: Powered by AUKEY Omni Stack Technology uses an ultra-compact stack design that enables more power to be packed into a smaller charger.

Space-Saving Design: This adapter 30% smaller size and much greater efficiency.

Safe and Reliable: Advanced circuitry and built-in safeguards to protect your devices against excessive current, overheating and overcharging.

Wide Compatibility: It can be used with a wide range of appliances and devices including hairdryers, iPads, phones, MacBooks, power banks, and more.

---
Recommended
---